Switch to original site

Details Today
| | | |
| --- | --- | --- |
| 51.30 | 1.99 % | 1.00 |
| High / Low | 52.49 | 48.20 |
| Vol / Time | 4,859,822 | 16:30 |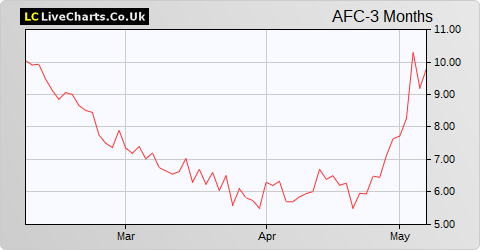 Search Share Prices
The company is engaged in developing alkaline fuel cell systems that use hydrogen to produce clean electricity. Alkaline fuel cells have been around for some time. First developed back in 1839, they were used to power the US manned space missions, but at that time the technology was too expensive to be commercially-viable. The company is completely focused on developing a low cost fuel cell system. Alkaline fuel cells are among the most efficient with electrical efficiency at over 60% and achieve lower costs through an operating temperature of just 70 degrees centigrade. The lower the temperature, the lower the cost of the materials needed to create a working and reliable electrode and system, so the fuel cell system is being developed utilising low cost injected moulded plastic and rubber sealants.
Latest AFC News
AFC Energy - (AFC) share price history
Date
Open
High
Low
Close
Volume
15/10/2021
50.50
52.49
48.20
51.30
4,859,822
14/10/2021
48.10
51.40
46.45
50.30
5,083,514
13/10/2021
47.20
47.40
45.55
46.50
3,138,015
12/10/2021
44.00
47.45
44.00
46.00
3,853,739
11/10/2021
45.85
47.74
45.20
46.00
1,980,182
More AFC Energy History
Data for AFC Energy is end of day only and updates after midnight GMT. Data is gathered from historic databases such as Quandl and other reliable sources, however errors do occur. Please use for information purposes only.